Mech-Q Engineering Solutions for AutoCAD, LT & IntelliCAD
Complete Engineering CAD add-on that runs inside your CAD application. It contains a Full Engineering Suite which includes Mechanical, Piping, Ducting & Structural modules. Modules can also be purchased separately.
From as low as $49 /month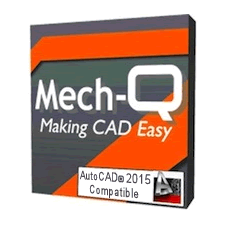 Triple your Drafting & Design Productivity
Congratulations, you've found one of the most affordable and powerful engineering suite available on the web. If you've looking high and low for an engineering solution, your search has finally ended here for a good reason.
Are you spending hours each day drawing the same piping or ducti schematic over and over? Do you find yourself struggling to to get your projects done one time? We feel your pain!
We too were struggling with the same tedious process of getting our drawings within budget and looking professional as well. You see, that is what prompted us to write our own CAD engineering software over 15 years ago. Since then ASVIC has grown to be the number one CAD software developer for Mechanical, Piping, Ducting & Structural software. Because our Engineering Suite is so affordable and reliable it continues to be used by tens of thousands worldwide and this number grows daily!
Whats inside our Engineering Suite?
We have packages all our tools into one package and call it the Engineering Suite. It contains all the tools you'll need to produce great quality drawings. Our software contains four main modules:Piping, Ducting, Structural and Mechanical.
We've Built This For You: engineers and drafting professionals We have put a ton of thought into designing our engineering suite. Being engineers ourselves, we wanted to create software to draw the way an engineer would draw. We can proudly say that creating mechanical drawings, structural detailing, piping layouts and HVAC Ducting drawings has never been easier. All of our engineering software is easily accessible from the pull-downs at the top of your CAD screen. In addition you can quickly access the program using floating toolbars, which are installed for you. Learn more..
Get Pricing
Learn More
Call Us
Send Brochure
Engineering Suite: Main Features
Easy to use interface
Auto-Bill of Materials (BOM)
Draw Options: 3D solids, 2D & isometric
Customisable to suit many standards and your sepcial needs Standalone, Site & Network (LAN & WAN)
Works with all versions of AutoCAD, AutoCAD LT, Bricscad, progeCAD, Cadian, GstarCAD and other intelliCAD versions.
Get Started
Get your free trial right now, just click on the blue button below. There is absolutely no obligation to buy whatsoever! Feel free to contact us with any questions you may have.
Download Free Trial Here
Got Questions?
Feel free to contact us today about the best CAD solution for your office. We would be happy to answer any questions you may have. Ask us special discounts and multiple licensing offers.
Contact us to learn more
Engineering Suite: Main Features Video